Help support Morgan Megarry, Madison Irwin, and Philip Brown!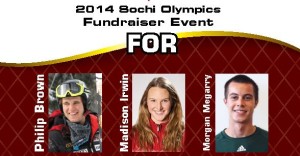 Date: Sunday December 29th; 6pm to 9pm
Location: Craigleith Ski Club, Old South Lodge
Cocktail Event: Drinks & hors d'oeuvres
BUY YOUR TICKETS NOW:
Ticket Price:
 $150 Adult Single (Tax Receipt $125)
 $100 Under 30 Years Old (Tax Receipt $75)
 FREE for kids under 16
Cheques make payable to: Alpine Ontario (BN 88938 6868 RR0001)
Please mail cheques & completed donation form to: Cam MacKenzie, 5430 Timberlea Blvd, Unit 2, Mississauga, ON L4W 2T7
Fax donation form and credit card info to fax # 905-624-5328
Attn: Cam MacKenzie
Additional Inquiries: kimberlee.brown@rogers.com; carol.lome@gmail.com; adriennewood@rogers.com
Proceeds:
Will be shared equally between Phil Brown, Maddy Irwin & Morgan Megarry to cover team fees. Any excess will be distributed to the NZ Foundation.
Silent Auction:
All proceeds donated to the NZ Foundation (Refer to www.nzfoundation.ca)
Can't make it to the Event?
Please donate what you can, every bit helps…